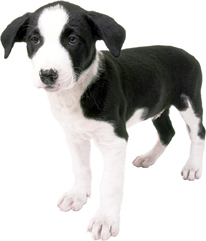 At Mullen Small Animal Clinic our puppy wellness program is designed to offer your new puppy all the benefits of veterinary services available to him / or her from 6 weeks of age to 16 weeks of age.
On your first visit your puppy will receive a complimentary bag or case of food. We feel strongly that good nutrition is very important.
Included in this service is a series of examinations and vaccinations including rabies, distemper, parvovirus, etc.
In addition, your puppy will be tested for worms and be treated for the most common intestinal worm of puppies – roundworms. Roundworms can cause gastrointestinal signs such as vomiting and / or diarrhea. There are other parasites that can cause similar symptoms and can even cause your puppy to become anemic (low red blood cells). Performing a fecal test will allow us to treat your puppy accordingly. Although some worms are visible to the naked eye, most worm burdens are diagnosed by examining the stool of your puppy microscopically.
Please bring a stool (fecal) sample with you on each puppy visit. The fecal analysis is included in each puppy vaccination.
When you come to the hospital for your vet appointment, be sure to set aside at least a half hour. We spend a lot of time helping you cope with common puppy behavior issues. We want you to be happy with your puppy and enjoy a long relationship together.