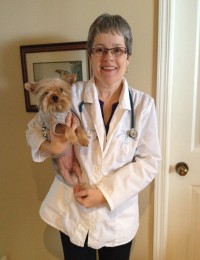 Veterinarian
Dr. Sally Parks OVC'81 and Dr. Linda Bolton purchased Mullen Small Animal Clinic in 1993. Originally from the Barrie area, I worked full-time in a small animal clinic in Rexdale for four years. I moved to Walkerton in 1985, and began working with the wonderful companion animals, clients and staff of Mullens.
My interests are internal medicine and working up cases especially ones involving dermatology, radiology, gastroenterology, opthalmology, and pain control. I have taken several dentistry courses over the years and enjoy performing dental procedures that help give pets a mouth free of pain. I love working with cats and small breed dogs and anything related to helping improve the human-animal bond.
I have served on the Rabies/One Health Committee of the Grey Bruce Veterinary Association for over 20 years. I am the perpetual judge of the Hanover Fair Pet Show. Dr. Linda and myself diligently tend a garden in the Walkerton Heritage Water Garden dedicated to the 2001 E.Coli victims. I am a member of the Blackhorse Golf Club and have served on the executive there.
My husband, Bob, now retired, helps with IT computer support at the clinic. Our home is shared with Spy, a seven year old DSH that was relinquished to the clinic in 2013, because of bladder stones. In March 2017 we adopted an 8 year old Yorkie named Rambo from a Rescue Organization. He is very cute and active!  Missy, Bogey, Pog, PG, Charlie, Phoebe and Tally: a miniature Poodle, a DSH cat, two Siamese, a Whippet and two Yorkies are previous pets that are waiting for me on the Rainbow Bridge. Other than Missy, they have all been adopted from the clinic with various special needs. They have enriched and lovingly shared their lives with my family.
Our son and daughter are grown and establishing their careers; sadly our oldest son passed away from a rare sarcoma cancer in 2015.
My hobbies include golfing, gardening, hiking, photography, nature, reading, and spending time with my family, friends and pets. And cheering on the Leafs and Blue Jays!