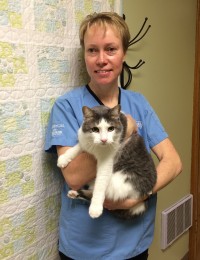 Registered Veterinary Technician
Daniela graduated from Ridgetown College in 2000. She has worked for MSAC since then. Her interests include anesthesia, dentistry, surgery and helping clients cope with pet loss. Being a great all-round tech she enjoys working with our vets on dentistry patients, any kind of surgery, interacting with clients and pets in the exam rooms and with reception.
She is on the Hanover Fair Committee and diligently organizes the pet show every August.
Daniela lives in Cargill with her husband, and daughter.
At the end of 2015, her family took in Lucy, a beautiful gray and white 11 year old cat that was relinquished to Mullens. Her owners had moved into a seniors home and could not take all their cats with them. Pets have always been a part of her household.
In her spare time, Daniela enjoys hiking, biking, traveling and canoeing on the Saugeen River.